Archive for October 6th, 2008
Heros: "I Am Become Death," on NBC at 9 p.m.
Claire and HRG are headed for a showdown of sorts. As Jack Coleman told Kristin at E!Online: "Around episode five, Claire and Noah collide in a most unexpected and kind of horrific way—I don't mean horrific…I just mean as a father, let's just say she just turns up in a place where I'd least like her to turn up when I'm doing work that I don't want her to know about."This season on Heroes, Nathan gets his head sliced open, Sylar-can-opener-style. — Kristin at E!Online
From Kristin at E!Online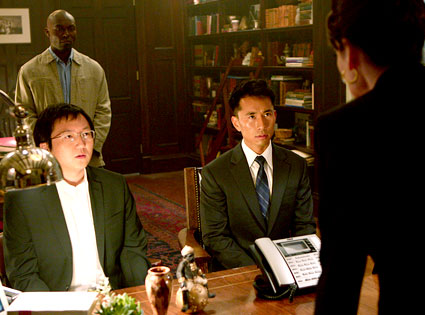 This season of Heroes is delightfully villaintastic.  Some of our favorites are going bad, some baddies are going good, but which is which? Masi Oka (Hiro Nakamura) and James Kyson Lee (Ando Masahashi) are here to sort out the good versus evil mess and share scoop on new powers.
"It's a very eco-friendly gas solution!" says Masi
Zap! Bang! Power! OK, so, what was going on in the premiere episode when Ando killed Hiro in the future? Says James, "If I zapped him, it's probably for a good reason. But we don't know if he's turned bad, or if I've turned bad, or if he's betrayed me." Is there a significance to Future Ando's power of red lightning? Well, says Masi, "if you think of anybody with lightning bolts, they're going to be evil. We see Elle as a villain, and we see future Ando shoot lightning bolts." Eek.
Say It Ain't So, Hiro: I never thought it would be possible, but Masi Oka says Hiro Nakamura could one day become evil: "I don't know if it will happen, I don't know if it has happened, but I do think it needs to go there eventually."
BFF? Red lightning aside, can Hiro and Ando's friendship make it through what's to come? Says James Kyson Lee, "These two characters have always been good, loyal friends, but in this show, you can never try to predict what happens, because once you think you know, you don't."
May the Force Be With You: As of tonight's episode, Hiro and Ando are currently stuck on Level Five, and I hear the Haitian is going to addle Hiro's brain a little. According to James Kyson Lee, "Hiro thinks he's 10—that's the last age he remembers. So now I'm trying to save the world and babysit at the same time. I try to get him to remember how he used to use his powers, so there's a little bit of 'Yoda trying to get Luke get his memory back.' " So Ando is the new Yoda? "[More like] Ando-wan-kenobi." And according to Masi Oka, there is another bonus to this situation: "It's a good reason to be able to say 'Yatta!' again without feeling silly."
Power Up? According to James Kyson Lee, there are many paths to abilities: "We learn this season that in order for people to obtain abilities, there has to be a combination of factors—both physical and environmental elements. We think the eclipse might have to do with it. Maybe the formula we are trying to find is closely linked to it, and of course Suresh (Sendhil Ramamurthy) is trying to do experiments to find out, but he's not finding the answers either." Does it involve midichlorians? Maybe something about fear, anger, hate, suffering and the Dark Side?
Death to come!
Some of Heros fans & critics alike are a bit overwhelmed by the number of characters and storylines on Heroes right now.
Inside sources close to the set are saying that there will be a little housecleaning this season. Not everyone will make it to the finale. Who  get their head sliced open by Sylar has not yet been determined
Who should stay and who should go?