Question: Got any clues as to what's ailing Izzie on Grey's Anatomy?
Ausiello: Sources confirm to me exclusively that Izzie will learn in this week's episode that she has a metastatic melanoma that has spread to the liver, skin and brain. Her prognosis with chemo and radiation: a few months — a 5 percent chance of survival.…
Question: I need some Mer-Der proposal scoop, please!
Ausiello: Der's second attempt goes haywire, but the third time's the charm — Patrick Dempsey (sort of) said so himself on The View yesterday!
Source: The Ausiello Files
Amy Madigan is reprising her role as Seattle Grace's on-call shrink next month on Grey's Anatomy, only this time it's not Meredith she'll be psychoanalyzing, it's Owen (Kevin McKidd). As I teased in last week's Ask Ausiello, the ex-military doc's post-traumatic stress disorder will flare up, causing him to physically hurt Cristina. Also returning to Grey's is Callie's dad, played by Hector Elizondo. Pops, er, pops up in April and is shocked to discover that his daughter is now into girls. Source: The Ausiello Files
Lane's hilariously overbearing mom from Gilmore Girls is checking into Grey's Anatomy later this month. Emily Kuroda will play a patient in the March 19 episode. Source: The Ausiello Files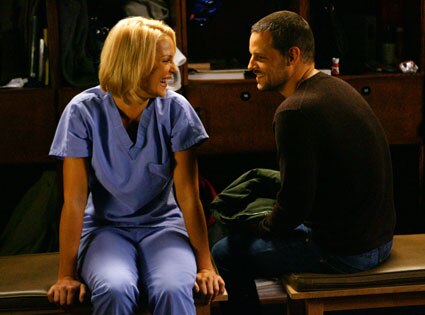 Is Izzie going to die on Grey's Anatomy? Justin Chambers (Alex) tells us the Grey's cast has four more episodes left to shoot of the current season but insists that he and his costars are still in the dark as to whether Katherine and T.R. Knight will leave the show. "I really don't know," he tells us. "I don't think so, but that's kind of between their managers and them, the writers and producers. But we sure love having them on the set. They're great to work with. It's a huge, successful show, and they're a big part of the success. Hopefully they'll stay." Source: Kristin on E!Online
What does Izzie's illness mean for Alex? Um, Emmy? Could be. From what I hear, Justin/Alex has some pretty gripping material up ahead. (And of course, if it's anything like Heigl's storyline with Denny, you will need a Costco-size crate of Kleenex!) "I know that Izzy's not doing well, and so I'm there to support her and hopefully it will all work out," Justin says. "There are trials and tribulations for all of the characters. It's good television." Source: Kristin on E!Online
Does Izzie really have cancer? Spoiler Alert! This Thursday, the interns discover what's wrong with "Patient X," unbeknownst to them that it's actually Izzie, and according to Chambers, yes, it's the big dreaded C-word. I've also heard from some of you fans who happen to be members of the medical community, and Izzie's diagnosis doesn't sound pretty. Med student Tamara says: "It's not really a 'textbook tumor.' The Denny hallucinations are way too complex because they involve all five senses. If the disease has anything to do with that mole, then she has a malignant melanoma with brain metastasis, and that's bye-bye Izzie." A second fan who asked to be called simply "MD," agreed: "Izzie appears to have a malignant melanoma with metastasis to the brain." Breaking it down for you, that little mole is cancerous, and it's spread to her brain, and that is most likely lethal. We'll also possibly be meeting Izzie's mother. Source: Kristin on E!Online
Any new Grey's Anatomy news? In the second-to-last ep of the season, we'll meet Ronnie, a "heartwarming" trailer-trash woman in her mid-to-late 40s, and the producers only want star names to play the part. Izzie famously grew up in a trailer park. Could this be her mother, come to Seattle to take her ailing daughter home? If so, whom do we want to play Izzie's mom? Source: Kristin on E!Online
Owen's post-traumatic stress disorder will take a turn for the worse when he ends up physically hurting Cristina, albeit unintentionally. Source: The Ausiello Files
E! News has confirmed that Jessica Capshaw, who showed up at Seattle Grace last month as hottie-blond pediatrician Arizona Robbins, has inked a contract to remain on

Grey's Anatomy

for the near future. [...] Our pals over at EW.com report that she'll be sticking around for the rest of this season, with an option to return as a regular come fall. Source: Kristin on E!Online
The show may be giving Meredith another long-lost sibling — this one a byproduct of her mother's affair with the Chief. Source: The Ausiello Files
Episodes 5.17: I Will Follow You Into the Dark Airdate: March 12, 2009
Mer not only learns about the engagement ring in next week's episode, but she sees it, too. Unfortunately, the circumstances are less than ideal in both cases. Source: The Ausiello Files
After learning at a deposition that more of his patients have died than survived, Derek decides to quit, even as Meredith refuses to give up on him. Meanwhile Bailey and the Chief continue to bicker over her peds fellowship — until Adele steps in to mediate — and Izzie's interns discover something unsettling on a "patient x," unaware that the charts they're looking at are actually Izzie's. Guest stars Jessica Capshaw as Dr. Arizona Robbins, Michael Rady as Mike Shelley, Wendy Hoopes as Tricia, Erin Cahill as Meg, Susane E. Lee as Beth, Brandon Scott as Intern Ryan and Loretta Devine as Adele Webber. Source: ABC
Episodes 5.18: Stand By Me Airdate: March 19, 2009
After his fellow surgeons try and fail to bring Derek back to work, Meredith must summon the strength to convince him. Meanwhile the hospital is abuzz as Mark attempts a rare face transplant surgery, Cristina, at last awarded her first solo surgery, is more focused on the needs of her friends, and Izzie does her best to keep her medical condition a secret. Guest starring Larry Sullivan as Dave, Emily Kuroda as Kendall and Brandon Scott as Intern Ryan. Source: ABC
1 Response to "New Grey's Anatomy Spoilers: Izzie Diagnosed with Cancer?"