Archive for March 23rd, 2009
I miss seeing Jack and Juliet together on Lost. Is there anything to look forward to?
MATT: It's a good thing spring has sprung, because, I am sad to say, it looks like you won't have any "Jacket" to keep you warm. When I asked Elizabeth Mitchell about what's ahead for Juliet and Jack, she said, "We very rarely have anything to do together anymore, but we do have a few moments, and they are very rich and full." So get while the getting is good, 'shippers. Source: TV Guide Online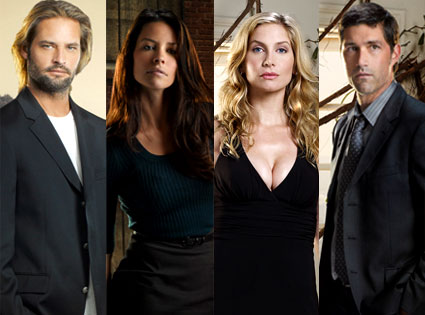 ABC/Florian Schneider
File this under shamelessly unconfirmed rumors too juicy not to share…
A couple of Lost characters are getting married.
According to a Hawaii-based source, Lost is currently seeking extras to play guests at a wedding on Monday. And if you're unaware, this is season-finale shooting time, give or take a few production days, so this wedding (if it happens) could very well be a key plot point, not just some throwaway background moment. Lost weddings are few and far between—we've seen Jack and Sarah's (Julie Bowen) nuptials and the day Kate got hitched to Kevin Callis (Nathan Fillion)—so we know that every such scene has major import for the series, right?
Who could be getting married? Is it Dharma lovers Juliet and Jim? Could Jack and Kate be unbreaking their engagement? Vote in our Lost Wedding Poll below and then post your theories in the comments!
New 'Lost' Season 5 Finale Spoiler
Source: BuddyTV
Warning: The following story regards a fairly major spoiler for the Lost season finale. It's sizable pieces of a puzzle rather than the answer to everything. But if you think having the pieces would ruin your ability to look at the whole with fresh eyes you may prefer not to know. Everyone has a Lost theory, but a few people's guesses are a little more educated than others. Entertainment Weekly's master of spoilers, Michael Ausiello, posted a real chin-scratcher about Lost today. The meaning of his tip is certainly murky, which only makes the news more interesting as Ausiello raises more new questions than he answers.
Ausiello heard from an ABC insider that Lost is shooting a wedding today that will factor into the two hour finale on May 13. There's no word on who is getting married except that the ceremony won't be held on the island. There is one suggestive detail. The casting agents are calling for Asian-American actors to play extras in the scene. Since Jin and Sun are already married there are a few possibilities. The scene could be a flashback to Jin and Sun's wedding, which on the surface would sound sentimental and cute but not exactly earth shattering. Or, according to one wild rumor, the wedding could occur during an extreme flash forward in which Aaron, now grown up, marries Jin and Sun's daughter.
Some scenes from late in season four and early in season five could be read as foreshadowing an Aaron and Ji Yeon union. Sun has previously commented that she would love it if Ji Yeon and Aaron became friends, and she later promised just such a friendship to Ji Yeon. A distant flash forward would provide answers to some fairly major questions. Are the parents of the bride and groom present? One can just imagine that some stunning clues would be worked into the scene about the long term futures of the central characters.
A flashback to Jin and Sun's marriage would be a bigger spoiler for what it implies than for what it directly states. What course of events on the island would necessitate flashing back to the wedding? Will Jin and Sun's second chance together be short lived, with shots of their unhappy ending being interspersed with memories of their happy reunion? Or is there another interpretation?
I, for one, don't want to know what happens until I see the episode. But half-spoilers like Ausiello's give me interesting directions to think in and actually make me more curious to see the episode rather than less. One has to wonder how many of Ausiello's spoilers are deliberately leaked to him in the hopes fans will have exactly that reaction.
Who do you think gets married? What would it mean if Ji Yeon and Aaron got married? And why would we flash back to Jin and Sun's wedding? Comment below and call your wedding theory now so you can brag later when you turn out to be right.
A Dose of 'Lost': Possible Wedding and Major Character Exit
'Lost' is reportedly casting extras for a wedding scene while Elizabeth Mitchell aka Juliet is cast in another pilot.
Two news coming from "Lost" may as well be the key clue to a major plot for the end of the season. First thing first, E! reports that a wedding may occur towards the end of the fifth season. The publication imported the information from a source in Hawaii where the shooting is taking place.
The show, allegedly is casting extras to be wedding guests, and if traced based on the shooting schedule, then this would be for the episode that airs in mid-year, aka the season finale. No confirming news yet about this, but extras are required to show up on Monday, March 23.
On a separate news, EW is hearing from moles at ABC and Warner Bros that Elizabeth Mitchell who is Juliet in the series, has been cast for a new pilot "V". This leads to speculation that her character could be written out. However, her role in "V" is still marked as "guest star".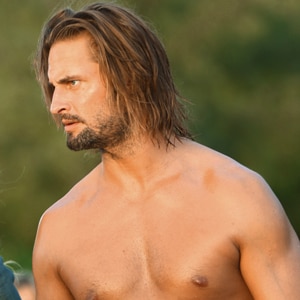 ABC/MARIO PEREZ
Are they killing off Sawyer on Lost?
Yes, they're killing Sawyer off Lost. Other season finale deaths to expect this year: A depressed McDreamy commits surgical hara-kiri with a scalpel on Grey's Anatomy, Blair uses thallium poison to kill Chuck Bass on Gossip Girl and Jon Stewart is being written out of The Daily Show With Jon Stewart. (Sorry for the bad joke.) To my own personal knowledge, Josh Holloway is not going anywhere (swear). However, it is possible there is a death I don't know about. Source: Kristin on E!Online
I read on IMDB that Kiele Sanchez is back on Lost in April. Is this true? Love you from Puerto Rico!
Back at you, bambino! According to Kiele's reps, "This isn't true," and we won't be getting any return visits from Nikki Fernandez in April's episodes of Lost. Guess those buried-alive deaths actually stick! Source: Kristin on E!Online
The major character who'll die in season five is either Sawyer, Ben or Daniel, according to an inside source. Doc Artz says it will be Ben, Jin, Sawyer, Miles or Daniel. (SpoilersLost)
Sawyer likes the life he's built for himself over the past three years with the Dharma Initiative. Only trouble is, the D.I. is due to come to a bloody end… or is it? The question of whether our time-jumping heroes can change the past comes up again in tonight's episode, as Christian Shephard shows Sun a very interesting photo when she arrives at the Dharma compound. And it sounds like Sun is not back in the past, with Jack, Hurley and Kate. (TV Overmind)
The title for the season five finale is "The Incident." And there was some massive pyrotechnics being planned for an upcoming episode, possibly the finale — which means either a huge fire fight or a big explosion. (Doc Arzt)
He's Our You (Sayid-centric) – Airing March 25, 2009
Things begin to unravel when one of the survivors goes rogue and takes matters into their own hands — risking the lives of everyone on the island. (ABC)
Whatever Happened, Happened – Airing April 1, 2009
Kate goes to extreme measures to save Ben's life when Jack refuses to help. Meanwhile, Kate begins to tell the truth about the lie in order to protect Aaron. (ABC)
THEN: Castiel came back to capture Alastair, the evil demon who tortured Dean in Hell.  Sam continued to flex his incredibly powerful evil demon-crushing power.
NOW: Castiel finds a dead angel with her chest ripped apart. He and Uriel seek out Sam and Dean, who are a little troubled just having come from Pamela Barnes' funeral. Dean is pissed off at Uriel as always, but the big bad angel doesn't care because seven angels are dead. They want Dean to help out by interrogating Alastair to find out who the demon is that's killing angels. Uriel is steadfast, but Castiel clearly has some reservations. It seems Castiel is becoming a bit too close to Dean and is starting to develop emotions. Aww, the relationship between Dean and Castiel (or Cas, as Dean has taken to calling him) is adorable.
Dean is taken to a secret location where Alastair is being held. He's tired of Uriel's overly serious nature, but Castiel promises "Urie;ls the funniest angel in the garrison. Ask anyone." The brilliant part is that he delivers the line in such a deadpan manner. Misha Collins is really getting a chance to do some acting.
Sam meets up with Ruby, asking her to help find Dean. Afer they track him down, Sam says he hasn't seen her in weeks and needs her to give him a little something. She jumps on him and kisses him, but it's not about having sex. Instead she slits open her arm and Sam takes a big drink. Uh oh, Sam is drinking demon blood to get stronger. That is so unbelievably wrong, but it's also fantastic to see Sam get such juicy material.
Dean reluctantly goes in to start torturing Alastair, who is creepy as ever with his lisp. He taunts Dean, thinking that this little Winchester doesn't have the cojones to go through with it. He ultimately gets through to Dean by asking if he'd be willing to do it "for all the things I did to your daddy."…READ FULL RECAP AT BUDDY TV
Previously on Smallville: Everything that happened was erased by the Legion's time travel ring, but on the bright side, Davis Bloom killed Linda Lake as Doomsday slowly took him over.
Davis Bloom is in church confessing his sins to a priest. This could take a while. Davis reflects on how he spends his nights riding around in his ambulance, chasing down bad guys and killing them, which keeps Doomsday dormant. I guess that's good, right?
Clark is feeling pretty good about himself because he's upping his appearances as the Red Blue Blur to help inspire the masses. Chloe has her doubts, but Clark speeds off and shows her his quick changing ability. She's not too impressed by his America's Next Top Model moment.
Hey, it's some complete stranger lying in a hospital bed. Oh wait, that's Jimmy. He's been MIA since Doomsday's wedding attack, so forgive me for not recognizing him. He's in severe pain, but he tries to hide it claiming he just wants to go home. Jimmy is still worried that Doomsday might come back
It's affecting him a lot, as he wakes up with night sweats after having terrible flashbacks to his wedding day. He gets up and begs the nurses for more morphine, but no one is around. I guess this job market really is bad, since even a major metropolitan hospital can't afford to employ anyone at night. A scared man runs by begging for help, and soon after that a man shows up to kill the first guy. Jimmy gets a glimpse of the killer's face, and it's Davis.
The next morning Jimmy calls Chloe over and tells her that Davis was the killer. However, Davis is also there, explaining that Jimmy must have been delusional from a morphine overdose. Jimmy doesn't buy it for one second, but Chloe sides with the man who tried to kiss her before her wedding day. It's a pretty bad start to a marriage if she's already siding with the man who wants to have an affair with her over her own husband.
Chloe gets upset and cries on Davis' shoulder. The problem is this happens not five feet from Jimmy's hospital room, and he's watching his new wife tightly embracing another, much hotter dude. His brilliant plan for revenge is to dress up like a paramedic and dig around Davis' ambulance….READ FULL RECAP AT BUDDY TV