Archive for April 2nd, 2009
Source: The Ausiello Files
If Grey's Anatomy boss Shonda Rhimes is trying to win me back over after that whole Izzie-Denny-ghost-sex debacle, mission accomplished! Sources confirm to me exclusively that Rhimes has tapped two of my favorite actresses on the planet, Everwood's Debra Mooney and Gilmore Girls' Liza Weil, to guest star in the show's two-hour season finale on May 14. Mooney will play mom to Kevin McKidd's emotionally tormented Owen, while Weil will appear as a cancer patient who crosses paths with Izzie. Interesting piece of trivia: Weil, whose sublime work as Rory's acid-tongued BFF on Gilmore turned many a frown upside down, has ties to Rhimes' other show, Private Practice; her real-life husband is the equally awesome Paul Adelstein (Cooper).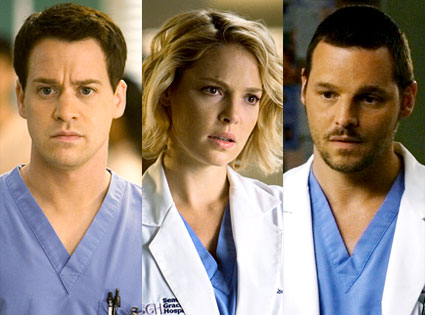 Randy Holmes/ABC; SCOTT GARFIELD/ABC
The members of the George-Izzie-Alex love triangle on Grey's Anatomy turn out to be key players in this last run of season five G.A. episodes. Find out how Izzie's screwing up Alex's game and giving George a nudge forward; plus, what huge project will occupy Iz's final days? (Hint: It's not just knitting a ginormous green scarf for Bailey.)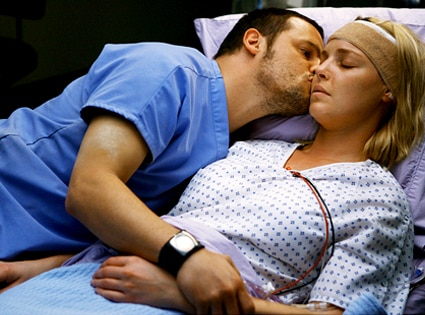 ABC/SCOTT GARFIELD
Any new Grey's Anatomy news? When Anatomy finally comes back April 23—shock of shocks—George gets a storyline. Yes, our boy George once again one-ups Alex (remember the heart surgery in the elevator?) when Alex freaks out in the middle of a trauma (understandable given that his girlfriend is, like, dying). And as reported by Shonda Rhimes herself (gasp!), Derek and Mer are supposed to be getting married in the upcoming 100th episode, and Izzie's dying wish is to give them the wedding she may or may not be able to ever have herself. (Sad face.) P.S. At this point, our best guesstimate on the finale is that Izzie goes into remission (but the producers keep Katherine Heigl in line with the threat of new malignancies), while George joins the Army medical corps, sending him into the sunset in a way that keeps him available for sweeps-week guest spots if they can afford his fee. What's your theory of the crime? Post in the comments. Source: Kristin on E!Online
Episode 5.20: Sweet Surrender Airdate: April 23, 2009
As she endures aggressive treatment for her cancer, Izzie throws herself into planning Derek and Meredith's wedding, Callie introduces Arizona as her girlfriend to her disapproving father, George excels in a trauma emergency when Alex freezes, and Owen seeks help with his PTSD. Source: ABC
Episode 5.21: No Good at Saying Sorry Airdate: April 30, 2009
You know how when sad dad Thatcher Grey swings by Seattle Grace, he almost always stirs up some sort of trouble, angst and/or agita? Amazingly, his April 30 visit will bring Meredith and Lexie closer together. Source: TV Guide Online
Episode 5.22: Beautiful Day (100th episode) Airdate: May 7, 2009
The wedding taking place in the 100th episode on May 7? It's not Mer-Der after all! Source: The Ausiello Files
Episodes 5.23 and 5.24: Here's to Future Days (Season? finale) Airdate: May 14, 2009 from 9 to 11 p.m.
Sarah: 60s, Caucasian, Irish looking, working class mom. Jordan's Mother: Early to mid 50s, Caucasian, upper class parent of patient in the hospital. Jordan's Father: Early to mid 50s, Caucasian, upper class parent of patient in the hospital. Jordan's Boyfriend: Mid to late 20s, all ethnicities, boyfriend of patient in the hospital. Recruiting Officer: In his 40s to 50s, all ethnicities, an officer who looks straight off of a military recruiting poster. Good looks, and tough. Recruiting Clerk: In his mid 20s, all ethnicities. Military clerk at the recruiting office. Source: SpoilerTV
Question: Shonda Rhimes said the 100th episode of Grey's Anatomy takes place on Mer and Der's wedding day, but you said they're not getting married. What's the deal?
Ausiello: Do I have to remind you of Shonda's long and well-documented history of injecting her spoilers with tricky and misleading wordplay? Case in point, Izzie doesn't have a brain tumor, she has a brain metastasis. Here's the deal: Unless the script underwent an 11th hour rewrite, I stand by my earlier statement that Mer and Der do not get married on May 7. The only thing I'm unsure of is whether or not I should reveal the name of the bride and groom who are tying the knot in that episode. I'm on the fence about that one. What do you think I should do? Submit your pro/con arguments in the comments section. I'll get one of our interns or Annie Barrett to tally up the votes at the end of the day.
Owen and Cristina are far from over. As Kevin McKidd told EW's Jennifer Armstrong, the exes will be dealt "a huge curveball that neither of them see coming. Just as he starts to get over his thing, something else happens. Which is good and bad. It's like, 'Oh my God, this is big.' It will be interesting to see how it leads into next season." (Michael Ausiello)
The season finale features two characters at a military recruiting office. (Watch With Kristin)
Thatcher Grey swings by Seattle Grace in the April 30 episode. His visit will bring Meredith and Lexie closer together. (TV Guide)
Sam and Dean found out their demon-hunting lives were detailed in a series of books called Supernatural. And what followed was an hour that took the time to pay homage to a little thing called "fandom" and furthered along the show's mythology. read more
We get some Justice League action in the season finale airing May 14, and a bit of injustice is on the way, too, when Jessica Parker Kennedy returns as Plastique for the May 7 episode titled "Injustice." (TV Guide)
Question: Any Smallville finale spoilers that don't involve the Grim Reaper?
Ausiello: The fight scene between Doomsday and Clark is going to be big. One might even call it ginormous.
Question: Any clues on the Smallville vet getting killed off in the finale?
Ausiello: The **r*** ***** ** *** *****.
Any other clues for who will be dying in the Smallville finale?
Ausiello: The *er**n d***g ** n** C***e.
Episode 8.19: Stiletto Airdate: April 23, 2009
Lois believes that she needs a big story to secure her reputation as a star reporter but the red/blue blur continues to elude her. However, after Chloe is mugged, Lois steps in to fend off one of the attackers and uses the opportunity to pretend a new superhero, Stiletto, has come to town and is giving exclusives to Lois. Clark is concerned Lois will hurt herself pretending to be a superhero but after he is captured by thugs with kryptonite, Lois steps in to save the day. Source: The CW
Preview of 'Smallville' 8.19: Lois Poses as Stiletto
In order to get some headlines and fish out the Red-Blue Blur, Lois slips herself into PVC suit and goes behind a mask, all new in 'Smallville'.
A new superhero is coming to town, or so it is. Lois will be in disguise as leather-clenched Stiletto in the next episode of "Smallville" in order to lure out Red-Blue Blur out of his hiding. In her attempt, Lois also recruits Jimmy to photograph Stiletto as the new heroine of Metropolis. The heroic side of Lois came out when she was having a hang out time with her cousin Chloe and two thugs approached them. Wearing stiletto heels, Lois kicked them and got into the idea when she managed to bring down one of them. The other thug however, got away with Chloe's car that contains some important information inside. Sticking to her plan, Lois puts on a mask and a pair of stilettos for the headlines. However, when Clark finds out about her scheme, he warns her that she is a better reporter than to have some fake story printed to advance her career. Titled "Stiletto", the episode airs April 23.
Episode 8.20: Beast Airdate: April 30, 2009
Clark discovers that Davis is still alive and confronts Chloe about protecting him. Oliver discovers Jimmy breaking into Chloe's apartment, but things get rapidly worse after Davis jumps from the shadows and attacks both of them. Source: The CW
One of "Bruno Mannheim's thugs" (in other words, A.J. from "Stiletto") is found dead in a dumpster, which leads Clark to believe that Davis/Doomsday didn't perish in "Eternal." Source: KryptonSite
Chloe's Beauty and the Beast fantasy turns into a nightmare. Source: TV Guide Online
Episode 8.21: Injustice Airdate: May 7, 2009
Chloe returns and begs Clark to kill Davis, claiming he can no longer keep the beast under control. Tess has assembled a team of meteor freaks, including Plastique (guest star Jessica Parker Kennedy), to track down Davis so Clark can kill him. However, things get out of hand once Tess' team discovers she is double-crossing them. Erica Durance, Aaron Ashmore and Justin Hartley also star. Source: The CW
Brendan Fletcher, whose previous credits include an episode of Supernatural, will be playing Parasite. Another character from the DC Comics stable will be making her Smallville premiere in this one: Livewire. Source: KryptonSite
Episode 8.22: Doomsday (Season finale) Airdate: May 14, 2009
The other Justice Leaguer is revealed: Future Nightmare on Elm Street star Kyle Gallner speeds back for the season finale in a return engagement as Bart Allen/Impulse.
Source: KryptonSite
At least two Justice Leaguers will be returning for this episode, in addition to (of course) Clark and Oliver, who are series regulars. One of the Justice Leaguers who is guest starring was last seen in the season premiere episode "Odyssey." The other returning Justice Leaguer has not been seen on the show since "Justice." It seems Ausiello was right – there may be some Legionnaires showing up in the finale as well. Turns out only one Legionnaire will be showing up – Ryan Kennedy as Rokk Krinn/Cosmic Boy. Freeman confirmed to ET that the Justice League will be returning in the finale. Though it is said that two characters will die, other characters might end up just leaving… All seven of the actors seen in the opening credits of Smallville will be appearing in this episode. Source: KryptonSite
The fight scene between Doomsday and Clark is going to be big. One might even call it ginormous. [... About the vet dying in the finale:] The *er**n d***g ** n** C***e. Source: The Ausiello Files [Note: Ausiello's clue is more than likely "The person dying is not Chloe." Or "The person dying is now Chloe."]