Wonderful Wonderful – Airing June 8, 2009 In the fifth-season premiere, Nancy ponders her fate and her relationship with Mexican crime boss Esteban (Demian Bichir); Celia's daughter discovers there's not much interest – or money – in holding her mother hostage; Andy, Doug and Silas contemplate a partnership in the cannabis biz. (TV Guide)
Episode 5.01 – Wonderful Wonderful
Nancy shows Esteban proof of her baby, but is unsure of her fate; Celia is held hostage in Mexico; Andy, Silas and Doug discuss growing plans.
Episode 5.02 – Machetes Up Top
Nancy gets an ominous message from Guillermo; Celia finds she has value; Andy takes Shane to live with Nancy's sister; Silas and Doug discover how difficult their task will be.
Weeds – Episode 5.02 – Machetes Up Top
Nancy pays a secret visit to Guillermo in prison; Celia puts her time in the rebel camp to good use by organizing their supplies; Shane decides to visit Nancy's estranged sister (Jennifer Jason Leigh); Silas and Doug second-guess their choice of a pot-growing plot. Source: TV Guide
Episode 5.03 – Su-Su-Sucio
Nancy gets a surprise visit from Jill; Nancy's bodyguard goes missing; Celia's micromanaging gets her sent back to the U.S.; Silas and Doug seek law enforcement approval.
Source: SpoilerTV
I want to know about Alanis Morissette's role on Weeds. Any good? Mary-Louise Parker tells us, "Alanis is terrific. I actually don't have much with her because most of it she's with Justin Kirk, but she was very lovely." Unfortunately, the reefer mama can't seem to shake the rocker-actress's 1996 persona: "I still have this image of her in Jagged Little Pill, but she's so well-mannered and soft-spoken, almost ladylike. It's so bizarre because I see that video in my head sometimes where she's all pissed off. It doesn't really connect." We're right there with you, girlfriend. I've heard they might keep Alanis Morissette around on Weeds past this season. Any word yet? MLP says of a possible Alanis return engagement: "If she doesn't get shot or taken away by vigilantes then she might be back." Source: Kristin on E!Online
July 13 will be a lucky day for sexy Latina Kate del Castillo (PBS's American Family). That's the date she joins the cast of Showtime's Weeds, playing Pilar Guzman, who drives a wedge into Nancy's (Mary Louise Parker) relationship with her unborn baby's father, Esteban (Demian Bichir). The Mexican actress gave TV Guide Magazine the lowdown on the new character while hanging out at a Los Angeles dogo park with her mini pinscher, Lola.
Congratulations on Weeds. Some of us remember you from American Family. Was there ever any pot smoking on that?
Kate: Only the actors.
Awesome! How long's your run on Weeds?
Kate: I already shot three episodes (6, 8 and 9) and I think my next one is going to be the last one of the season.
What's the role?
Kate: I play Pilar Guzman. She's a classy, powerful, strong woman who is going to be shaking up the relationship between Nancy and Esteban. She's a wealthy woman who inherited a lot of money.
I've heard she's a drug lord.
Kate: Yes, kind of. I think this is the first time in five seasons that Mary-Louise's character will have to deal with a bad woman – and I don't necessarily mean drug dealing. At first, I don't even look at her. I don't like the relationship she has with Esteban – for business reasons.
Is Weeds shown in your native Mexico?
Kate: Now they're showing the fourth season and everyone loves it.
You are also starring in an online telenovela for Univision.com.
Kate: Yes. It's called Vidas Cruzadas, which means Crossed Life. There are 15 episodes that are between five and seven minutes each – starting in August. They look like little movies. The theme is artificial insemination. My character has had it with men and wants to be a mom as soon as possible, so she goes and gets artificially inseminated and then the next day meets the love of her life.
Would you ever get artificially inseminated?
Kate: I thought about it, but I think I'd rather adopt.
Until then you have little Lola.
Kate: Oh yes.. she keeps me very busy.
Source: TV Guide Magazine
Guillermo was so good in the Weeds premiere. Will we see more of him this season? Yes, indeed. While he is currently incarcerated, the Weeds baddie will be back in some capacity and leading lady Mary-Louise Parker could not be more thrilled about it. MLP tells us, "Guillermo [Diaz] is truly one of the best actors I've ever worked with. There are two bigger scenes that we have coming up, and when he works, I just want to stay all night." Let's just hope he stays behind that plate-glass window for the safety of Nancy and baby-to-be. Source: E!Online
Any scoop on my favorite show, Weeds? Remember Sucio from last season of Weeds, the grungy guy who guarded the infamous drug tunnel? He's back in Nancy's life under the pretext of keeping an eye on her for Esteban. He begrudgingly becomes somewhat part of the family. However, don't get too attached to him (like we did). Sniff. Someone else is out to get Nancy, and Sucio falls victim to the first attack. Source: E!Online
The new season starts off with the fallout from that announcement. Her family is pissed. Even Andy, who loves her. Nancy basically acknowledges she's a terrible human being, but then proceeds to act like even more of one. She dumps Shane off to live with her volatile sister (Jennifer Jason Leigh) because he isn't safe at home. She even purposely gets drunk to antagonize her Mexican drug lord boyfriend, simply because it's the last card she can play in her epic power struggle. (Michael Ausiello)
Since her pregnancy is the only thing keeping her alive, Nancy's more than happy to keep the baby for now! That said, if Nancy is going to save herself from one of Esteban's hitmen before season's end, it looks like it will probably be thanks to some combination of DEA guy, Guillermo and the well-armed Mexican rebel leader with whom Celia becomes close frienemies. (Watch With Kristin)
"Weeds" is back tonight and, let's see, what can I tell you? Well, the show is still on top of its game. Though the storyline is sort of out there these days, the series' sense of humor makes everything okay. I actually enjoyed this evening's episode more than I'd expected to. The ridiculousness picks up right where it left off, with Nancy breaking her joyous pregnancy news to her Mexican mafioso baby daddy just in time (as he was but moments away from having her killed, of course) and the level of insanity only rises after that.
Is Nancy really pregnant on "Weeds" or is it just a scam to keep her safe?
Nope, she's definitely carrying a kid inside that skinny bitch body of hers.
I've been waiting all year to find out whether or not Nancy and Andy will be together. Is she oblivious to the fact that he's in love with her?
He will come right out and tell her he loves her tonight, so, uh, no.
I need to know if Andy has a shot with Nancy. I know you interviewed the guy who plays him last year and he was coy about it, but you must know more by now.
Indeed I do. Let's see, does Andy have a shot with Nancy? Sure. The door isn't dead bolted. But Andy will soon be getting busy in a Burger King bathroom with someone else, so don't hold your breath for a "Nandy" hook up just yet.
How is Jennifer Jason Leigh as Nancy's sister on "Weeds"?
Fantastic. My favorite part of the new season so far.

Is Elizabeth Perkins (Celia) leaving "Weeds"? I heard a rumor.
A false one. No, Celia was taken captive by Quinn and her boyfriend, so she won't be part of Nancy's life for several episodes. But she's still very much a part of the show. Source: Zap2IT
Actually, there's nothing all that ironic about Alanis Morissette joining the cast of Showtime's Weeds. I just really wanted to work that song title into the headline. Anyway, a Weeds rep confirms that the Jagged Little Pill actor-singer-songwriter has been cast as pregnant Nancy's (Mary Louise Parker) trusted baby doc, Audra Kitson. Morissette will appear in a minimum of seven episodes during the upcoming fifth season (debuting June 8), and could return next season as well. Hey, this qualifies as ironic: I'm told the obstetrician role may require Morissette to engage in "some tasteful nudity." No, Nancy won't be turning the tables on her lady doc; sources confirm that all Morissette's character really wants is Justin Kirk's Andy. Source: EW
[MRS.YEE] – 40′s – 70′s, this Asian woman, who speaks in broken English, is the landlord of a building Silas (Hunter Parrish) and Doug (Kevin Nealon) are trying to rent for their new business. GUEST STAR
Source: SpoilerTV
[DOCTOR AUDRA KITSON] Early – Mid 30′s – This pretty, smart, charming, earthy woman is Nancy's (Mary Louise Parker) trusted doctor. Recurring Guest Lead, possibly into next season.Source: SpoilerTV
[TENLY] In her early 20s – she is a sexy hippie chick, a beautiful girl in a bikini top and short shorts. One nice scene…ONE-DAY GUEST Source: SpoilerTV
[RABBI] 50′s – 70′s – this Rabbi is at Nancy's (Mary Louise Parker) house. He must look Jewish. One Day Guest. Source: SpoilerTV
[DR. SHELLY KLAUSNER] 30 – 50, this very masculine looking lesbian doctor who works in a GLBT clinic is looking after Nancy's (Mary-Louise Parker) son, Shane (Alexander Gould)…1 DAY GUEST STAR Source: SpoilerTV
[SCOUT] (8 – 10 year old girl) – This 10 year old East Indian girl has a nice scene with Doug (Kevin Nealon), where she is selling cookies outside a gym. Please submit actresses with as many comedy, television, or commercial credits as possible…GUEST STAR Source: SpoilerTV
Weeds Star Mary-Louise Parker Talks Love Among the Drug Lords
Source: Kristin on E!Online
Brace yourselves, Weeds fiends.
Season five of the drug dramedy premieres this Monday at 10 p.m. on Showtime, and not only have we seen the first three incredible episodes, we also just had the opportunity to chat with Ms. Mary-Louise Parker, the pot-dealin' mama herself.
MLP dished about everything the fifth season of Weeds has to offer, and in fact, she gave us so much juicy goodness, we're giving you your Weeds fix in two parts. Today's installment includes all the baby-daddy drama you can handle, with a side order of Nancy-Andy action…
Keep reading to find out if Nancy and Esteban are in love in part one of our exclusive with Mary-Louise…
If These Uterine Walls Could Talk: Talk about a stressful pregnancy! Nancy is in fact with child, but she spends her first few days back for season five deeply (and destructively) in denial, especially after being outed by Esteban as the rat. "I think she has a lot of inherently male characteristics, like when a man's wife gets pregnant, and they go out and do crazy stuff in denial," Mary-Louise says of Nancy's whiskey, sushi and cigarette binge. "I wanted it to go further, like have her do a line of cocaine."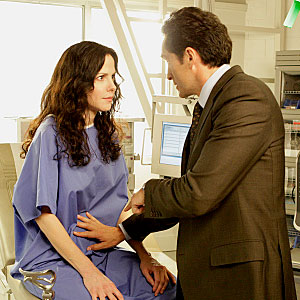 Sonja Flemming/Showtime
It's a Boy! Nancy's maternal instincts we correct: It felt like a boy because it is a boy! Mary-Louise made casual mention of what we'd all hoped to be true, for Nancy's sake: She's giving Esteban a male child. But don't think that means smooth sailing between Nancy and her baby daddy. The first few episodes have Esteban asserting control over the situation, but "Nancy takes back her power at a certain point. We're on [episode] nine right now, and it's a power struggle, back and forth," explains MLP. "In some ways she has this thing over his head—she's carrying his son, which is just about the only thing she could have that would [save] her."
N+E=True Love? Could Nancy and Esteban be in a loving relationship for the long haul? Says Mary-Louise, "Nancy spends much of this season negotiating that relationship, because right now she has two kids [of her own] and [she and Esteban] don't live together. It couldn't be more complicated, right? Their moments together are really fraught with all of that." But don't count out the L word just yet. Says Mary-Louise, "There are a couple of nice moments, and I think in those moments we see that they actually care for each other. He's the first person she's really cared about since her husband died." But leave it to Nancy to ef things up. "It's just like everything else she does—it turns into a mess. That's who she is as a person. Even if she was given something uncomplicated, she would probably mess it up." Point-blank: Is it love? From Mary-Louise's mouth to your ears, "I think so, yeah."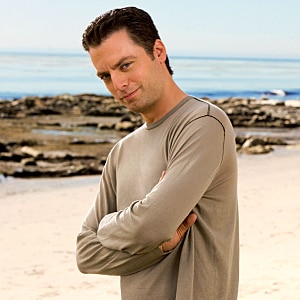 Sheryl Nields/Showtime
Is Andy's Love Eternally Unrequited? Fingers crossed for a no, but nothing too serious with Nancy yet. "Some of the best moments for me so far have been with Andy (Justin Kirk), because that relationship is more defined. With Esteban, it's so messy and all over the place, partly because they do care for each other," says MLP. "Andy is just so bittersweet because she loves him, but maybe not in the way he loves her, but maybe a little bit." Fret not, because it sounds like some amazing stuff is coming up for everyone's favorite uncouple. Says Mary-Louise, "What Justin does that is so amazing is be hilariously funny and heartbreaking at the same time. You really see that this season more than ever. He has a scene in episode four that made me cry." Ahhh, what happens?! "Their relationship comes more into the forefront. It really goes somewhere, and they're a big part of each other's lives, but I'm not supposed to tell why. He takes on a really big role." Could Andy possibly be the father? "That would be awesome…but no." Bummer! But if you're looking for something between Nancy and Andy, do keep an eye out for episode four, and then again after episode nine. "There's a scene that Justin said, if we do it right, it's going to make TV history. That's a pretty good tease, right? There's a kind of inadvertent, intimate moment that hopefully will be funny and a little bit perverse."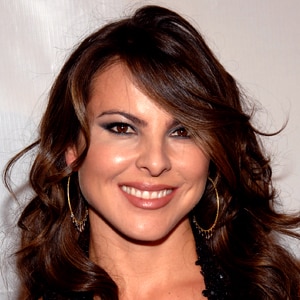 Jean-Paul Aussenard/Getty Images
Cruella De Vil Incarnate: Think Esteban is top dog? Think again. Mary-Louise tells us that even he has a boss, and she comes in the form of a lovely lady, actress Kate del Castillo, who sticks around for quite a while. "Her power trumps Esteban's. And she does not like Nancy at all," Mary-Louise says. "Nancy's wondering what's going to happen to her because this woman has a lot of power to destroy both of them—everyone really."
Mary-Louise Parker is not, we repeat not, saying farewell to Weeds once Jennifer Jason Leigh arrives. How do we know? We went straight to the source, executive producer Jenji Kohan, who tells us definitively, "No. That's not true." (Phew!) Jennifer's character, Nancy's sister Jill, hits the scene in very big way, but as of now she won't be sticking around very long. Jenji dishes on that and also spills who may be giving her some loving. "Right now we've written two that she's in, but as we write, we'll see where she fits in and if she wants to come back and play," says Jenji. "She's doing a movie, so her schedule is kind of crazy right now. It's a great piece of guest casting. We love having Jennifer here; we'd love her to do as many as she wants to do, but by no means does it edge out Mary-Louise."
Just because Jill's related to Nancy doesn't mean she'll be Nancy 2.0. "There's the same sort of damage and oddness to both of them, but they manifest it in different ways. While Nancy is acting out, Jill is repressing everything, but bursting at the seams," says Jenji. So how does Nancy's big sis come in the picture? "She doesn't show up. The mountain comes to Muhammad. She gets pulled in and then pushes back," teases Jenji. "I think Nancy views her sister as a safe harbor for her children. I don't think Jill has that in mind." That means trouble is definitely brewing for the Botwin family. Speaking of trouble, Andy could be finding himself in some deep waters when he realizes it would be tough going after his bro's widow, but the sister may be fair game. Jenji tells us, "I think they might use each other to work out some of their issues." Sexually use each other? "I can't say," adds Jenji. Which sister should Andy hook up with, Nancy or Jill? Hit the comments!
Source: E!Online
Meet Nancy's sister. In her biggest TV commitment, Jennifer Jason Leigh has been tapped to recur on Showtime's comedy series "Weeds," playing Mary-Louise Parker's estranged older sister. Leigh is set to appear in at least two episodes of the Lionsgate TV-produced series, which was picked up last year for Seasons 5 and 6. As Nancy (Parker) finds herself and her family in harm's way, she sends her brother-in-law, Andy (Justin Kirk), to takeher son, Shane (Alexander Gould), to live with her estranged older sister, Jill (Leigh). But when Jill gets fed up with her own suburban family, she finds her way back into Nancy's life — jealous, frustrated and intent on finally hashing things out with her little sister. The fifth season of "Weeds" premieres in June. Leigh, who will co-star opposite Ben Stiller in Noah Baumbach's feature "Greenberg," is repped by UTA and Untitled. Source: Hollywood Reporter
4 Responses to "Weeds Season 5 Spoilers!"