Archive for May 16th, 2011
'Castle' finale kills one, maybe two cops and exposes a dark secret
Source: Zap2it.com, 5-16-11
They are dropping like flies.
Season 3 of "Castle" promised to end with death, but we may have just gotten more than we bargained for.
The first big departure came somewhat predictably in the last act — after a game-changing revelation, naturally — but the real shocker was reserved for the final moments, when another series regular was seemingly felled.
But how did we get there? We start, as we do with most noteworthy "Castle" outings, with looming mystery of Beckett's (Stana Katic) murdered mom. She goes to meet the mystery killer's imprisoned associate Hal Lockwood –as she so often does — only to find that he's been transferred to less secure facility where another accessory the conspiracy/murder, Gary McAllister, awaits his silencing execution.
Since even people in prison for murder can still be tried for another murder, Lockwood has a late-night hearing where something looks suspicious.
Now, did we accidentally stumble into a cold war thriller, or did the season finale of "Castle" actually include a helicopter breaking a gangster out of a New York City court room? It sure did. And with the closest known associate to Johanna Beckett's murderer on the lamb, the hunt pushes Beckett back into the danger zone.
This does not sit well with Castle (Nathan Fillion). He tries to get his partner to back off, but she snaps. They fight, he even brings up the cuddles and unspoken-of kiss and then they appear to sever their partnership — but it can't possibly last. They did that last finale.
While all of this is going down, Montgomery (Ruben Santiago-Hudson) makes all sorts of foreboding comments, fatherly references and general red flag type statements that lead to the correct conclusion that he's going to die. What it did not prepare us for was the revelation that he's been part of the Johanna Beckett conspiracy from the beginning.
Oh yeah. That's right. We'll wait for you to affix your jaw to the rest of your face.
Turns out Montgomery was an unwilling accessory to the evil-doing. He accidentally shot another cop, made the wrong friends and ended up employing the woman who's mother he was tangentially involved in murdering. He promised the still-unnamed villain he'd keep an eye on her, in exchange for her safety.
But he's been doing a bad job, so a freed Lockwood pays him a visit and makes the situation clear:  either Beckett goes down or the entire Montgomery clan gets murdered.
He arranges to meet with Beckett — while Esposito (Jon Huertas) and Ryan (Seamus Dever) do some sleuthing of their own, turning up evidence that puts Montgomery in the middle of the crimey web. Ryan is the first to point out the damning info. Esposito gets real mad at him for questioning the chief. The world's shortest bro fight ensues, and Esposito concedes that they need to tell Beckett.
But she's too busy having her world turned upside down by a confession from Montgomery, who hasn't sold her out at all. He's drawn Lockwood to the hanger to kill him and spare Beckett and his family. Only he makes two very big mistakes in the process.
1.) He does not tell Beckett who killed her mother, saying she won't be able to control or protect herself in possession of the information, so she can't have it. Lame.
2.) He dies.
He did get forgiven before he went though. It's sweet, but we bet she would have really forgiven him if he'd told her who the killer was. Beckett, Castle, Esposito and Ryan agree that the truth about Montgomery never come out. He'll die a hero.
And at his hero's funeral, Beckett even delivers a eulogy… for two!
We see her in the cross-hairs, just as Castle spots a laser sight, and though he dives to save her, she takes a bullet to the chest. There's blood everywhere, and her eyes roll back into her head, leaving her presumably dead and us extremely anxious until some unknown date in September when the show returns.
Could Beckett really be dead, though? Of course not. Unless there are some plans to kill off most of the remaining cast and reboot the series as a multi-generational "Cagney and Lacey" starring Susan Sullivan and Molly Quinn, she'll be just fine.
One Upper East Sider Is Pregnant, Plus 4 More OMG Moments From This Week's 'Gossip Girl!'
Blair is finally off to Monaco to marry her Prince, but an unexpected surprise could cut her fairytale short once and for all!
We'll have to wait until next season to find out the answer to that question, but Gossip Girl's fourth season finale dropped enough surprises to keep us busy chatting about until then.
Last week's episode ended with Mr. Thorpe kidnapping Blair (Leighton Meester) as an act of revenge against Chuck (Ed Westwick). Blair called Chuck for help, but only because she still had him on speed dial on her phone. He ran to her rescue, then asked her to accompany him for just one drink in return. But that one drink turned into a night of the two crashing a wedding reception and having sex in an empty room of the party. And this was all while Prince Louis of Monaco was waiting for Blair at their engagement party!
She was about to break it off with Prince Louis, until Chuck intervened and gave Prince Louis his blessing and left. Blair ran after him to ask why he did that, especially after they spent that amazing night together. Chuck said he will always love her, but Prince Louis will treat her better than he ever will. They both decided they needed to let go of each other once and for all. Now, Blair is still engaged to her Prince and planning her Royal Wedding for next November. But something tells me she'll have another surprise to deal with before they say their "I do"s.
More 'OMG' Moments:
1. Is Blair pregnant?
The big cliffhanger was a discarded (positive) pregnancy test in the garbage can at Blair and Serena's (Blake Lively) apartment. Serena hasn't had a fling since who-knows-when, so I'm thinking it must be Blair's. And it has been three weeks since her one night stand with Chuck. Could their night of making up and breaking up — have knocked her up?
2. Serena gets a job on the west coast!
Serena traveled across the country to live with her grandma and spend time working on herself for the summer. But will it lead to a more permanent situation for next season? She was offered a job by a major Hollywood hotshot — and it looks like she accepted it!
3. Charlie is revealed to be a fake!
This was by far the most shocking moment of the season finale — aside from the potential pregnancy. Serena's crazy cousin Charlie (Kaylee Defer) ended up being a total fake, and it was all a plan for Lily's (Kelly Rutherford) sister to get her blank checks. Georgina (Michelle Tratchenberg) befriended Charlie, or whatever her real name is, after she tried killing herself by jumping out the window. Even though this was all staged, I think Charlie is going to go back to the Upper East Side next season, because she was looking at Georgina's number after Lily's sister paid her for the job.
4. Raina is heading back to Chicago.
After finding out her father killed her mother — and almost Blair — Raina (Tika Sumpter) is going back home to Chicago. This means her serious relationship with Nate (Chace Crawford) has come to an end. Of course, Nate will be traveling as a bachelor with Chuck for the summer, and he doesn't seem too bummed about that.
What did you think of the Gossip Girl season finale, HollywoodLifers? Will there be a love child between Chuck and Blair next season? Is Serena going to permanently reside on the West Coast? Were you as surprised by the Charlie scandal as I was?
Taylor Momsen and Jessica Szhor Exit 'Gossip Girl'
---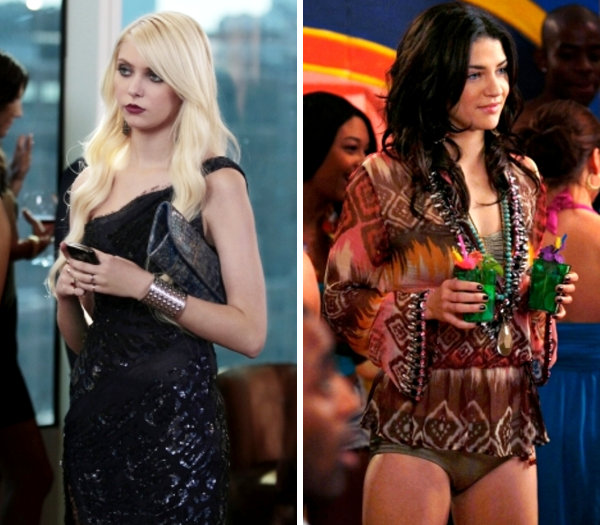 Source: Ace Showbiz

"Gossip Girl" is going through a major cast change with the elimination of Taylor Momsen and Jessica Szohr. The actresses, who portray Jenny Humphrey and Vanessa Abrams respectively, have been downgraded from regulars to recurring. They would appear in the upcoming season on a guest star basis.
Momsen's departure is inevitable for she is shifting her focus to singing for The Pretty Reckless. She was only in four episodes through the first half of season four before taking an indefinite hiatus. It's still unclear how they would explain Jenny's absence. As for Vanessa's, the character recently said she wanted to study abroad.
Meanwhile, Blake Lively, Leighton Meester, Chace Crawford, Penn Badgley and Ed Westwick are retained as regulars this fall. To fill in the gap, Kaylee DeFer who plays Charlie has been promoted to regular actor.